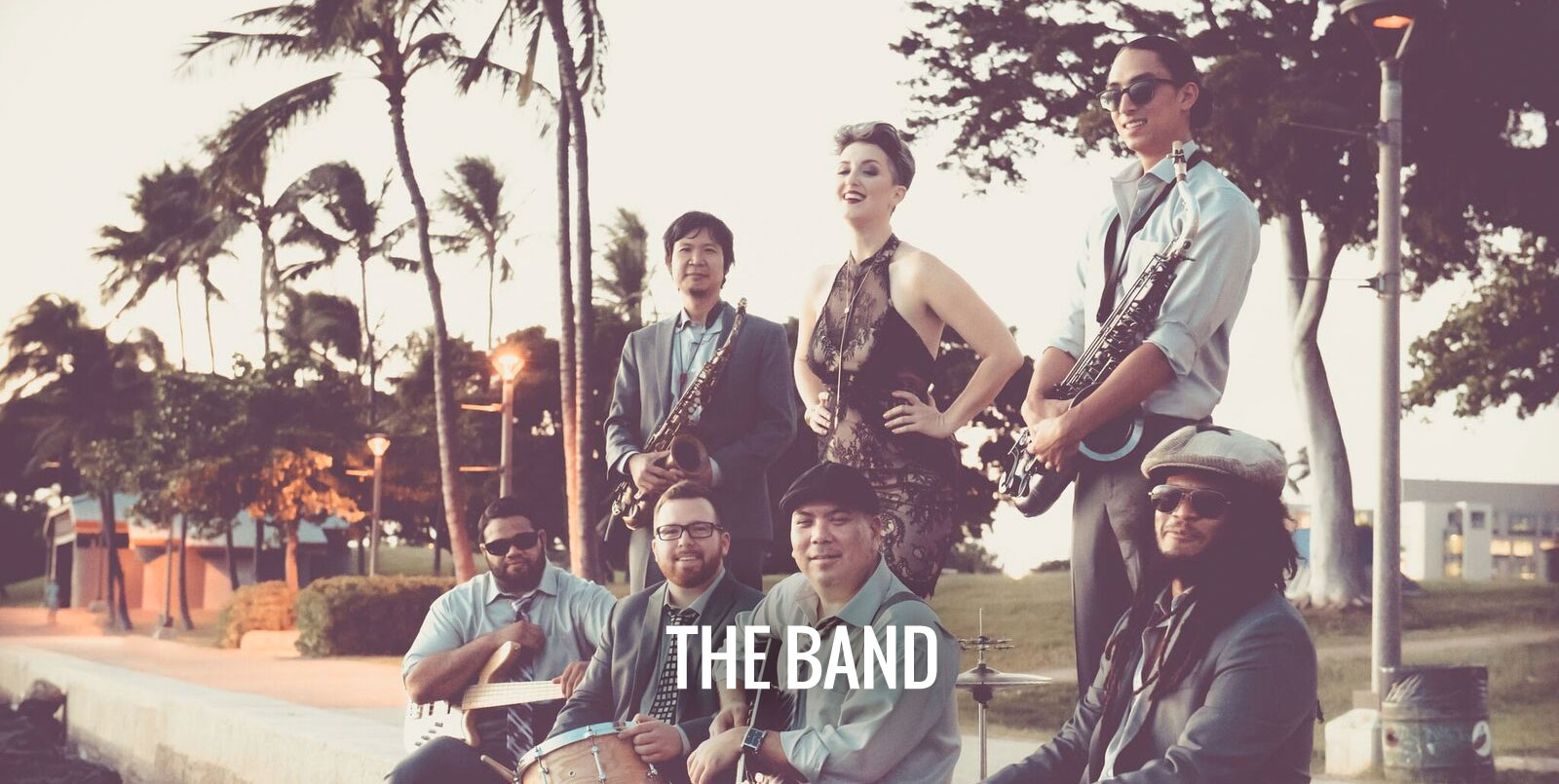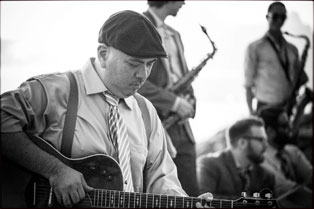 CURTIS KAMIYA | Vocals & Guitar 
Curtis is the artistic director of Mango Season. He received musical training and mentorship in guitar and voice at Punahou School, and further pursued his love of acting and music at the University of Puget Sound where he earned a degree in both music and theatre. There he met Annie, his wife and musical partner in Mango Season. They lived in Seattle and San Francisco before finally settling in Curtis' hometown of Honolulu in 2008. In the early 2000s, Curtis explored his musical passion as a solo artist and songwriter releasing two albums under his Lonesome Picker label — You Can Close Your Eyes (2001) and 21st and Geary (2005). Curtis owns and operates Curtis Kamiya Music, a private studio in downtown Honolulu that focuses on music instruction in guitar, ʻukulele, and voice, as well as music business coaching. He also works with songwriters, producers, and recording artists to create small format recordings.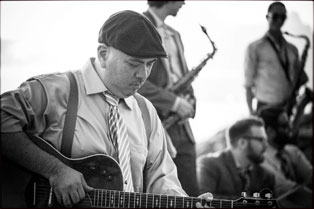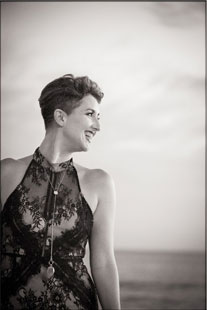 Annie Kamiya | Vocals & Percussion
Annie fell in love with music and theatre at a very young age where her rural Oregon home was always filled with the sounds of her parents' music – Steely Dan, Rickie Lee Jones, Nina Simone, Sérgio Mendes & Brasil '66, Michael Jackson, Herb Alpert, and her girl crush – Lani Hall (come on, have you seen her in Never Say Never Again? ). Her first staged play was at 6 years old where, along with her Bugs Bunny doll and Strawberry Shortcake figurines, she gave a powerful interpretive performance of Tchaikovsky's 1812 overture (her father still gives it "two thumbs up!"). While attending the University of Puget Sound as a theatre major, Annie met and fell in love with her now husband and musical partner, Curtis Kamiya, a local boy from Hawaiʻi. Thus, the loving seeds of Mango Season were planted. Today, Annie is an entrepreneur — she owns Curtis Kamiya Music (private music lessons), Mango Season Music (the band), and Mango Season Weddings (live music & planning/coordination) — and continuously works on her lounge singing act covering the most over-the-top Bond film hits (see Lani Hall reference above). When not singing and running day-to-day operations, you can find Annie hiking the ridges of Oʻahu with lady hikers more hardcore than herself, and getting sweet cuddles from her two fur babies, Lexie and Bailey.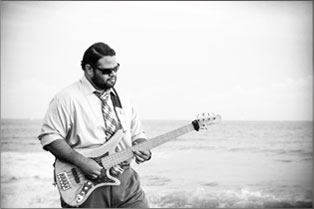 Wil Tafolo | Vocals & Bass
Wil began playing music at 9 years old. He began with ʻukulele and singing in the school choir but quickly moved to learning guitar and bass at Punahou School. In 2004, he won the award for Outstanding Music Student at the Hawaiʻi Music Awards, and spent a few weeks in New Zealand and Samoa sharing the gift of Hawaiian music with other students. Wil's musical influences span the spectrum from Jazz to Funk to Country, with a special love for Hawaiian music. Locally, Wil performs with Mango Season and Danny & Nicholas Kaleikini, while internationally you can often find him on tour with Shing02.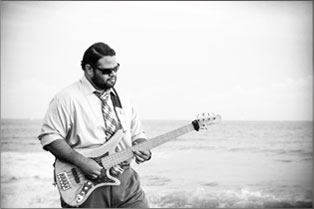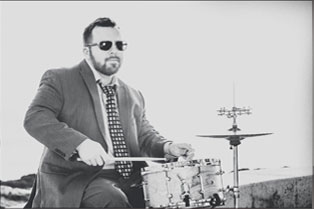 Mark Lindberg | Drums
Mark grew up in the Pacific Northwest and started drumming when he was a kid. He transplanted to Honolulu in 2002 where he earned a bachelors degree in classical percussion at UH Manoa. He currently teaches private drum lessons from his home, and has the honor and privilege to play around Hawaiʻi with a great circle of friends who love music as much as he does!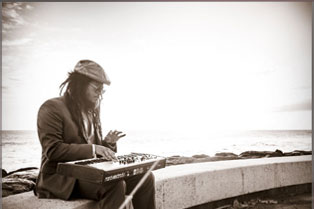 Ken Lykes | Keyboard & Rhodes
Ken began his musical journey on the piano at age 6 and has been active in the Hawaiʻi music scene for the last 12 years. His career in music really began when he started performing at local Punk venues around Honolulu where he quickly evolved his style to incorporate an eclectic array of music. Ken current plays keys in Mango Season, Humble Soul (Reggae), and Kings of Spade (Rock).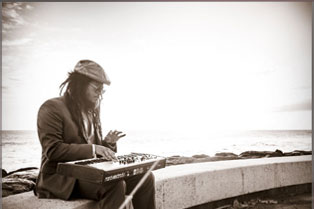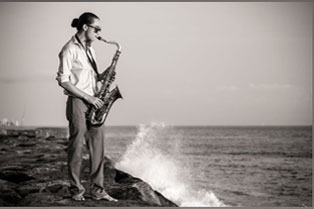 Nicholas Kaleikini | Tenor Sax
Nicholas is a producer at Lana Lane Studios and a classically trained musician. He began playing clarinet early on, and that introduction developed into a lifelong love of music with
particular focus on saxophone and piano. He performs with his grandfather, Hawai'i's Ambassador of Aloha, Danny Kaleikini, and recently released their second EP Mahaaalo. He is the Director of the POW! WOW! School of Music Hawai'i, a free two-week-long music intensive program for local youth. Nicholas also performs with internationally acclaimed MC and activist Shing02, and recently performed in Hong Kong, Korea, China, Japan along with sold-out shows at the El Rey Theatre in Los Angeles and Social Hall in San Francisco. Nicholas' EPs with Ming Pur Records — Aloooha (2015) and Mahaaalo (2016) — are both available on iTunes.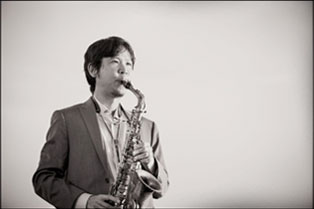 Chris Yeh | Alto Sax
Chris played saxophone in jazz combos and college big bands while living on the East Coast in the 1990s. He has also performed at venues in San Francisco and Tokyo. Since returning to Hawai'i, he has performed locally with various groups including his own jazz quartet, The Chris Yeh Quartet. In 2011, he joined Mango Season which allows him the freedom to play the George Michael's Careless Whisper sax solo upon request, usually his own.